Collectively and in their discrete groupings, these objects represent the ways in which materials, motifs, and ideas reverberate across histories and geographies. Themes of spiritual uplift and awakening, survival and endurance, decoration and homage, and domesticity and narrative weave through the works. Pasts and presents mingle and offer imagined futures. The works speak to the human need to protect, dream, question, mourn, and love in times of prosperity and adversity alike.

Star Gazing in Texas, 1938
Born 1889 in Sun Prairie, WI; died 1961 in Whittier, CA
Oil on canvas

Ida Ten Eyck O'Keeffe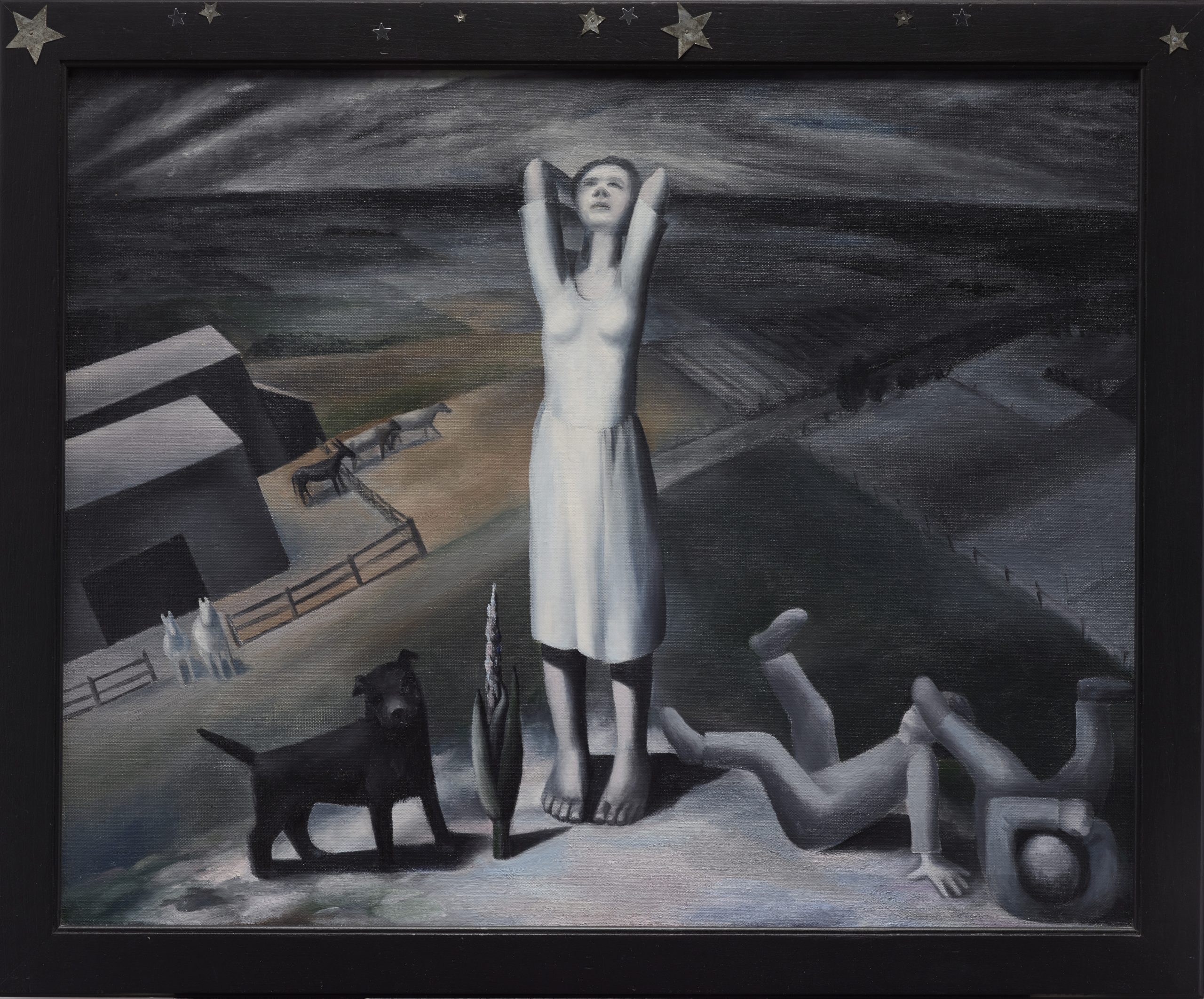 The Sacrifice of Isaac, about 1659
Baptized 1611 in Valladolid, Spain; died 1678 in Madrid, Spain
Oil on canvas

Attributed to Antonio de Pereda y Salgado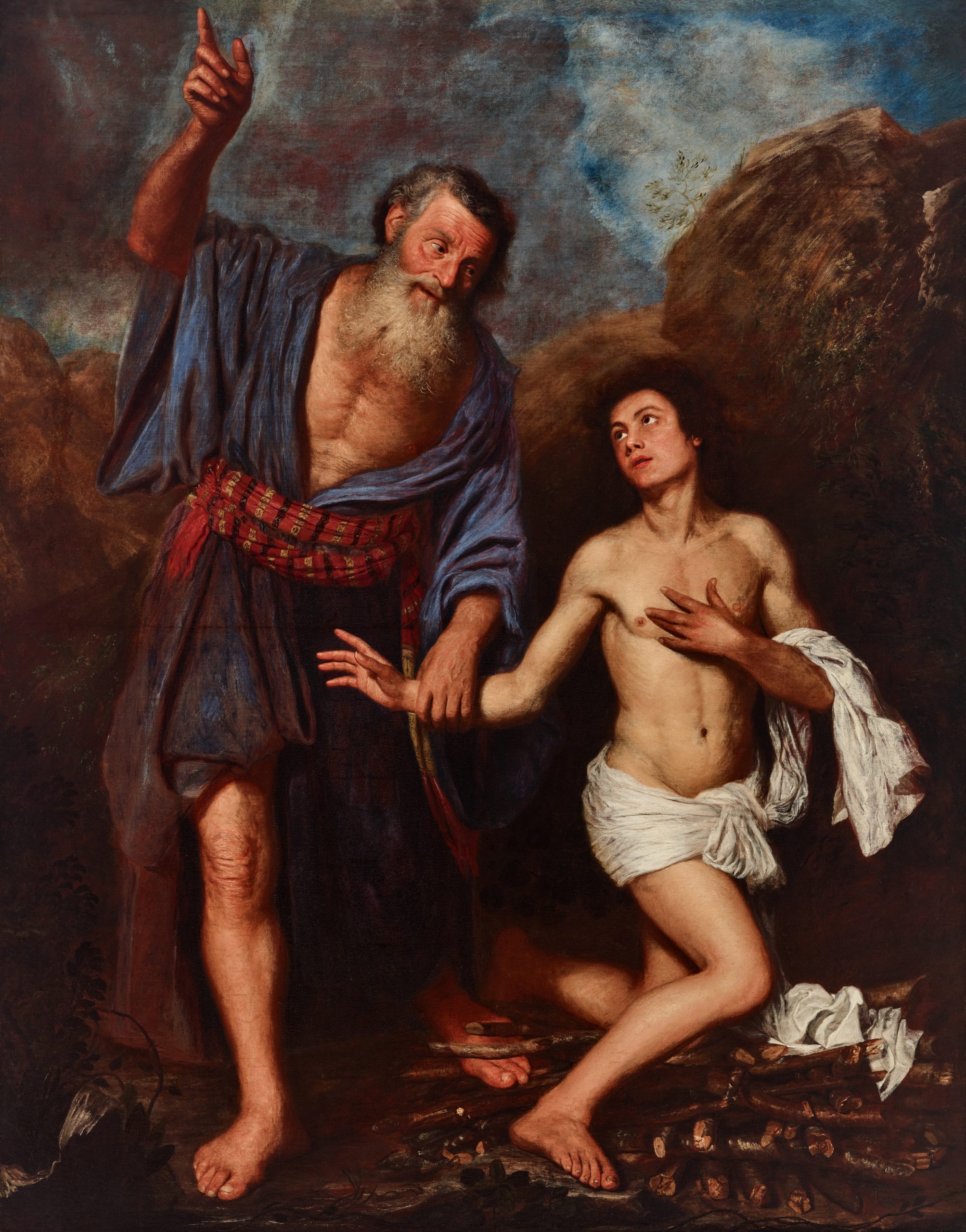 D'mba (Headdress), late 19th-early 20th century
Guinea Wood, raffia, and cotton

Sculptor, Baga peoples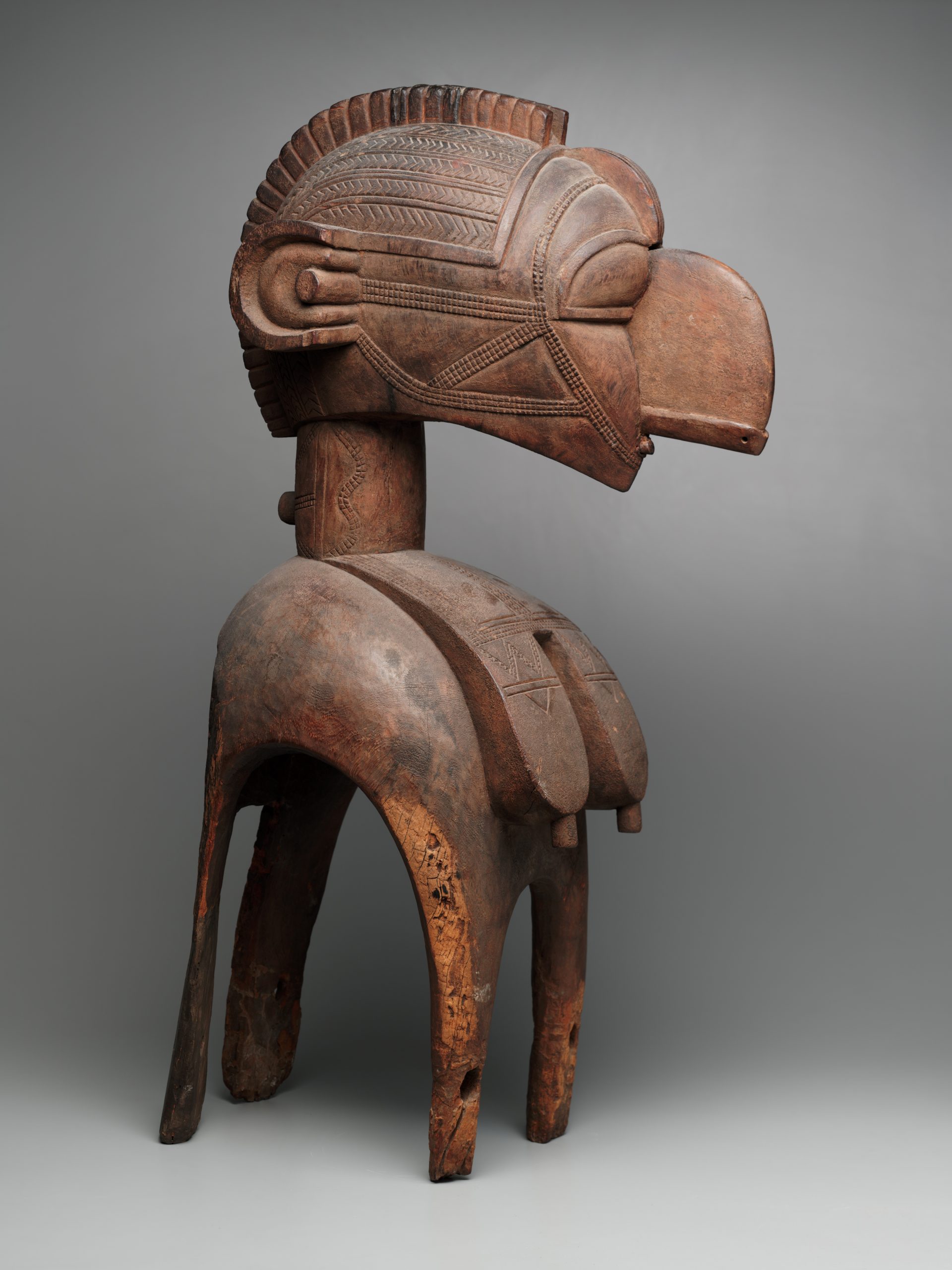 The West, 2017
Born 1984 in Toronto, Canada; died 2019 in Edmonton, Canada
Oil on canvas
Matthew Wong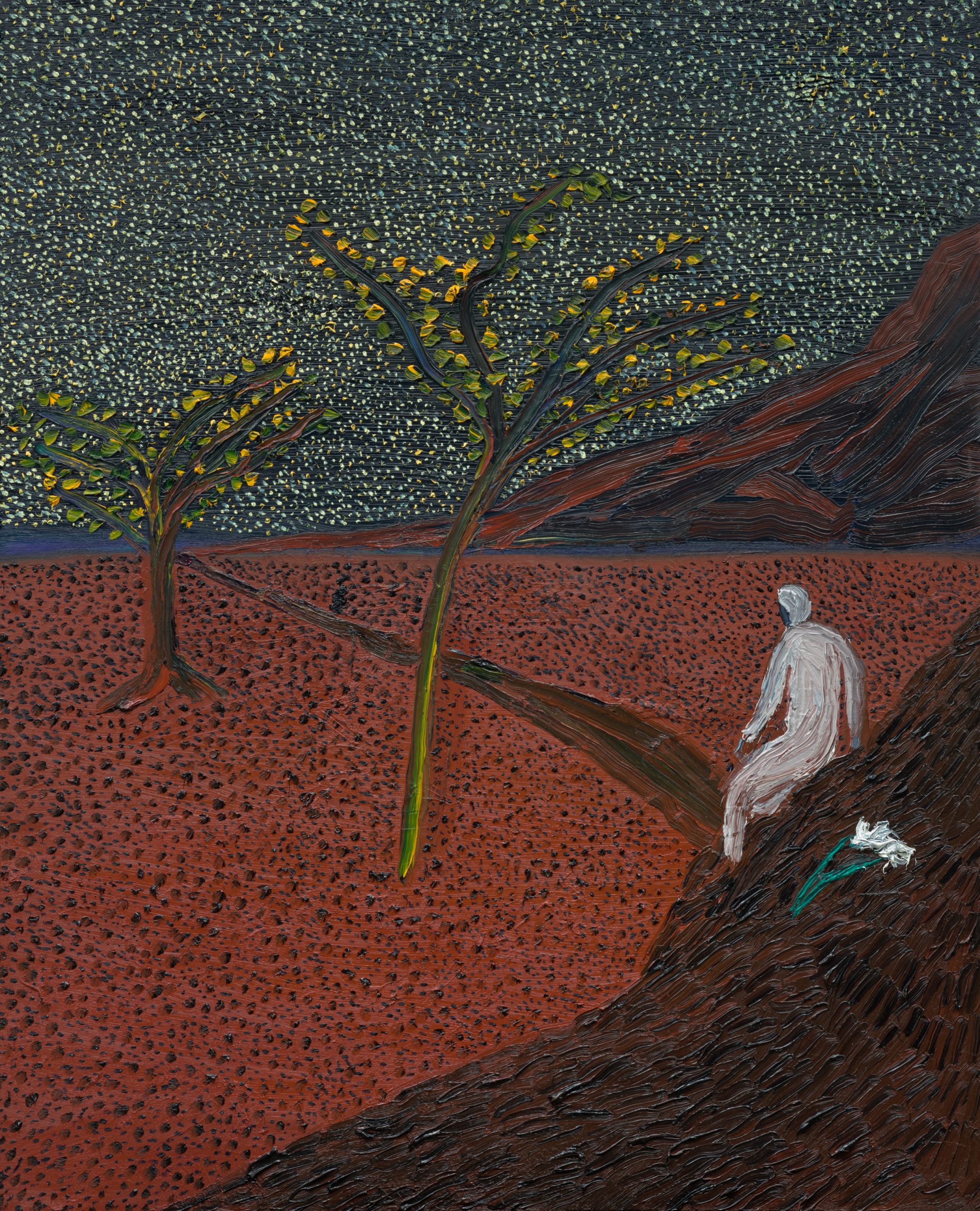 The White Vine,

The Keir Collection of Islamic Art on loan to the Dallas Museum of Art, K.1.2014.125
folio from a dispersed manuscript of Dioscurides' pharmacopoeia
On Medical Material in Arabic
Attributed to Baghdad, Iraq, AH 621/1224 CE
'Abdullah ibn al-Fadl, calligrapher
Ink, colors, and gold on paper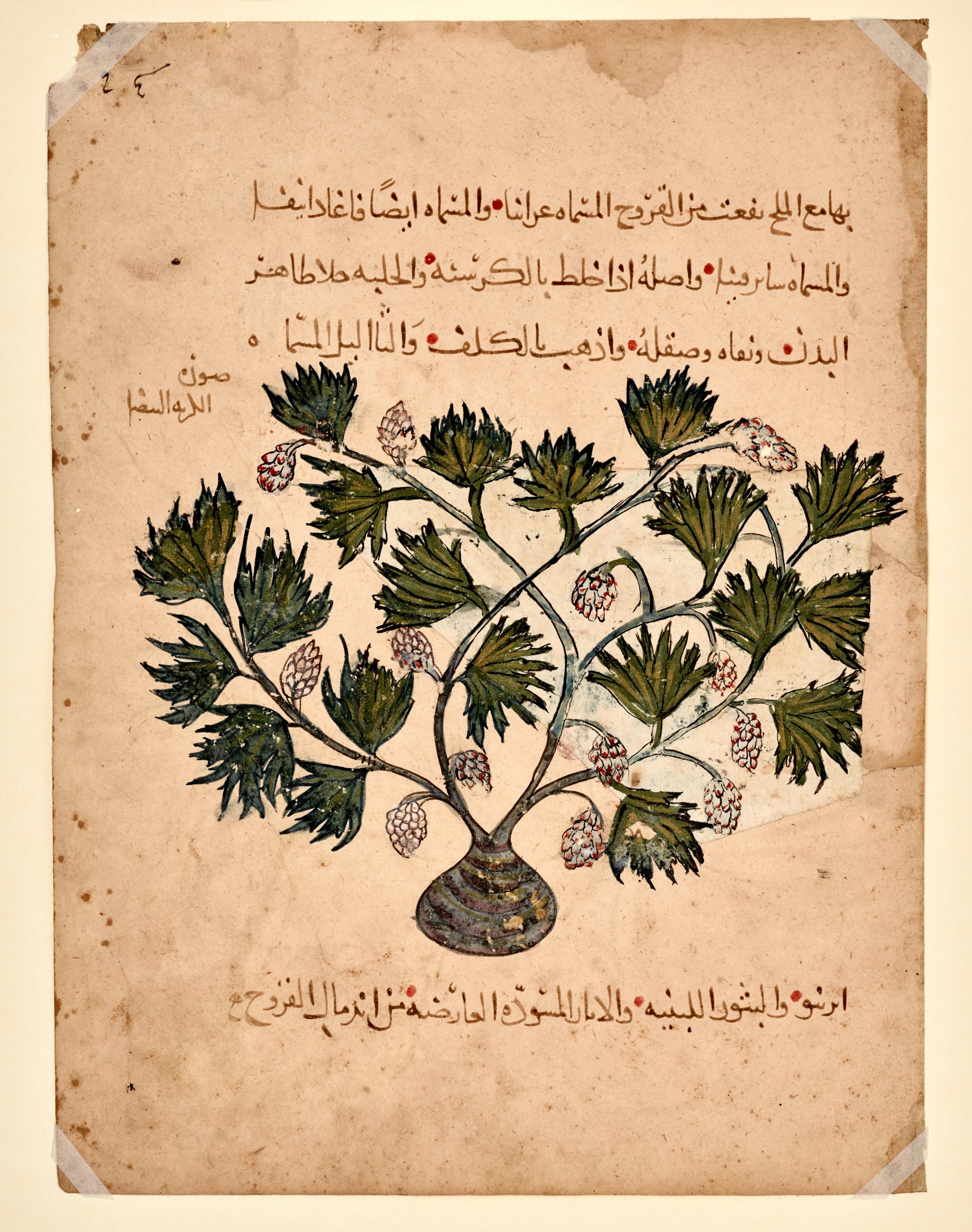 Dog Howling, 1960
Born 1899 in Oaxaca de Juárez, Mexico; died 1991 in Mexico City, Mexico
Color lithograph
Rufino Tamayo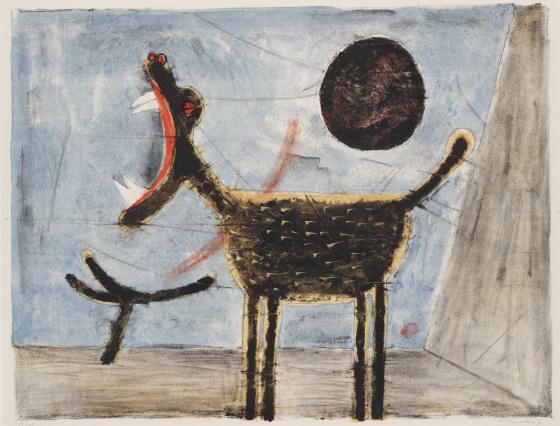 Coming to Jones Road #5: A Long and Lonely Night, 2000
Born 1930 in New York, NY; lives in Englewood, NJ, and La Jolla, CA
Acrylic on canvas with fabric borders
Faith Ringgold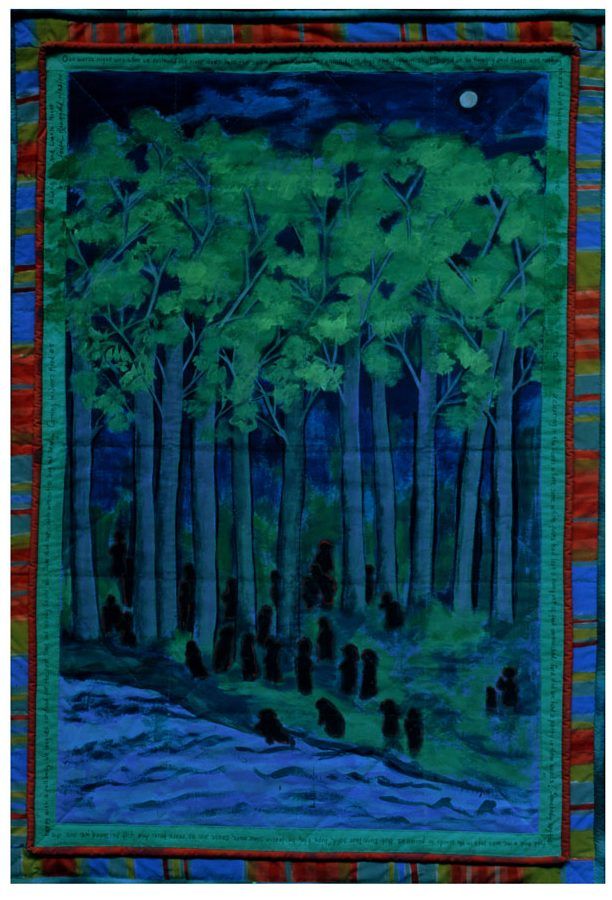 Prosperity Is Just Around the Corner, 1930-1932
Born 1894 in Van Alstyne, TX; died 1991 in Collin County, TX
Appliquéd cotton
Fannie B. Shaw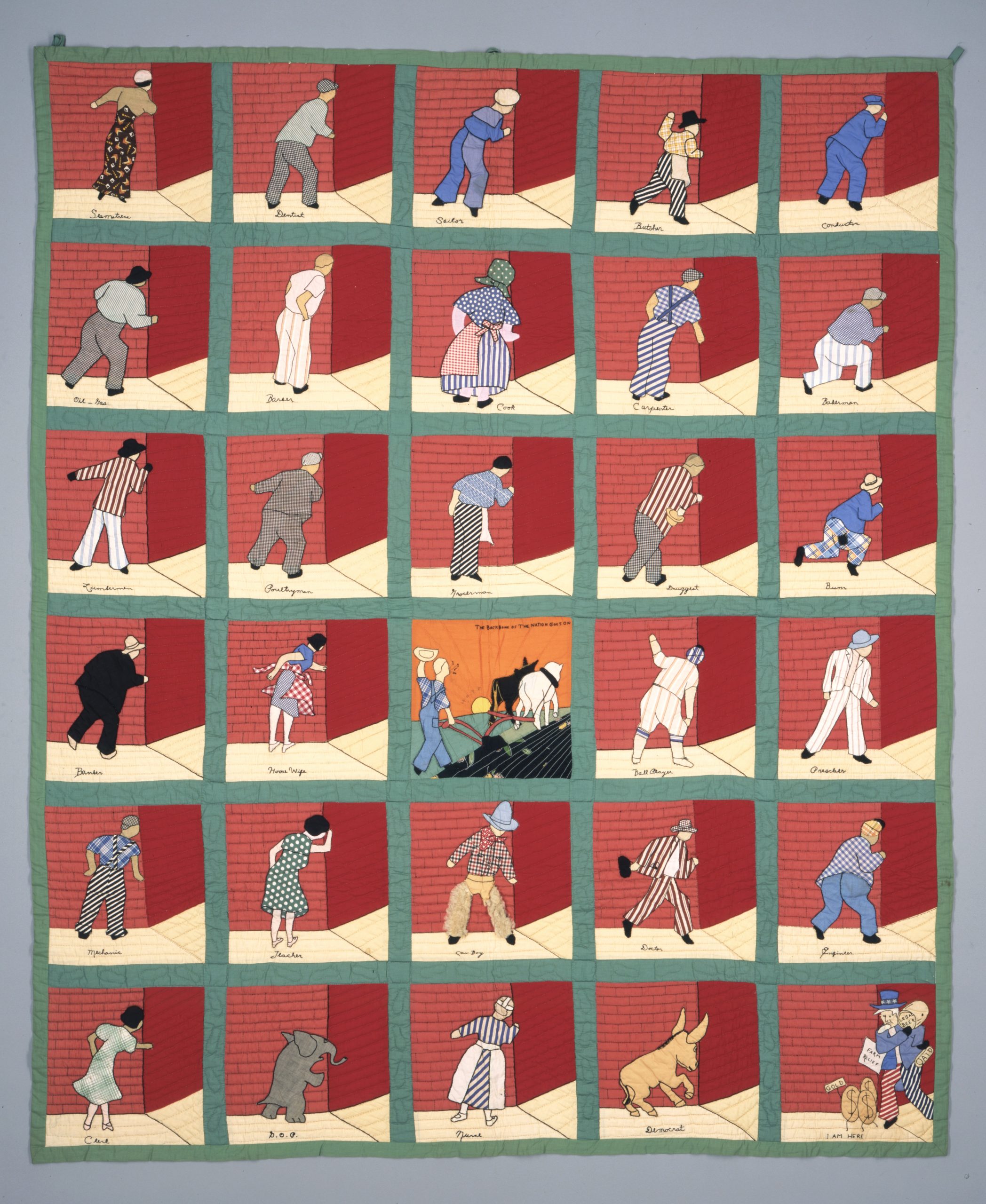 Vessel with modeled figures, 2005
Diné (Navajo)
Born 1973 in Kayenta, AZ; lives in Kayenta, AZ
Ceramic
Elizabeth Manygoats
CONVERSATIONS
Dr. Vivian Li, the DMA's Lupe Murchison Curator of Contemporary Art, discusses three objects in the exhibition To Be Determined made between 1937 and 2017. She explores how artists working in a range of media use the tradition of landscape to offer perspectives on the issues of their times.
Jammie Holmes's work centers on narratives of Black life in the Deep South. His paintings celebrate family, tradition, and ritual while portraying experiences of struggle, mourning, and survival. For To Be Determined, the artist created works that together collapse the time between his present and his childhood memories of Thibodaux, Louisiana. Four Brown Chairs depicts the quiet, intimate scene of a gathering, marked by a sense of closeness, loss, and emotional introspection. In Tired, an exhausted figure lies on a couch; his repose suggests both physical and spiritual retreat.

Four Brown Chairs, 2020

Born 1984 in Thibodaux, LA; lives in Dallas TX
Acrylic on canvas
Jammie Holmes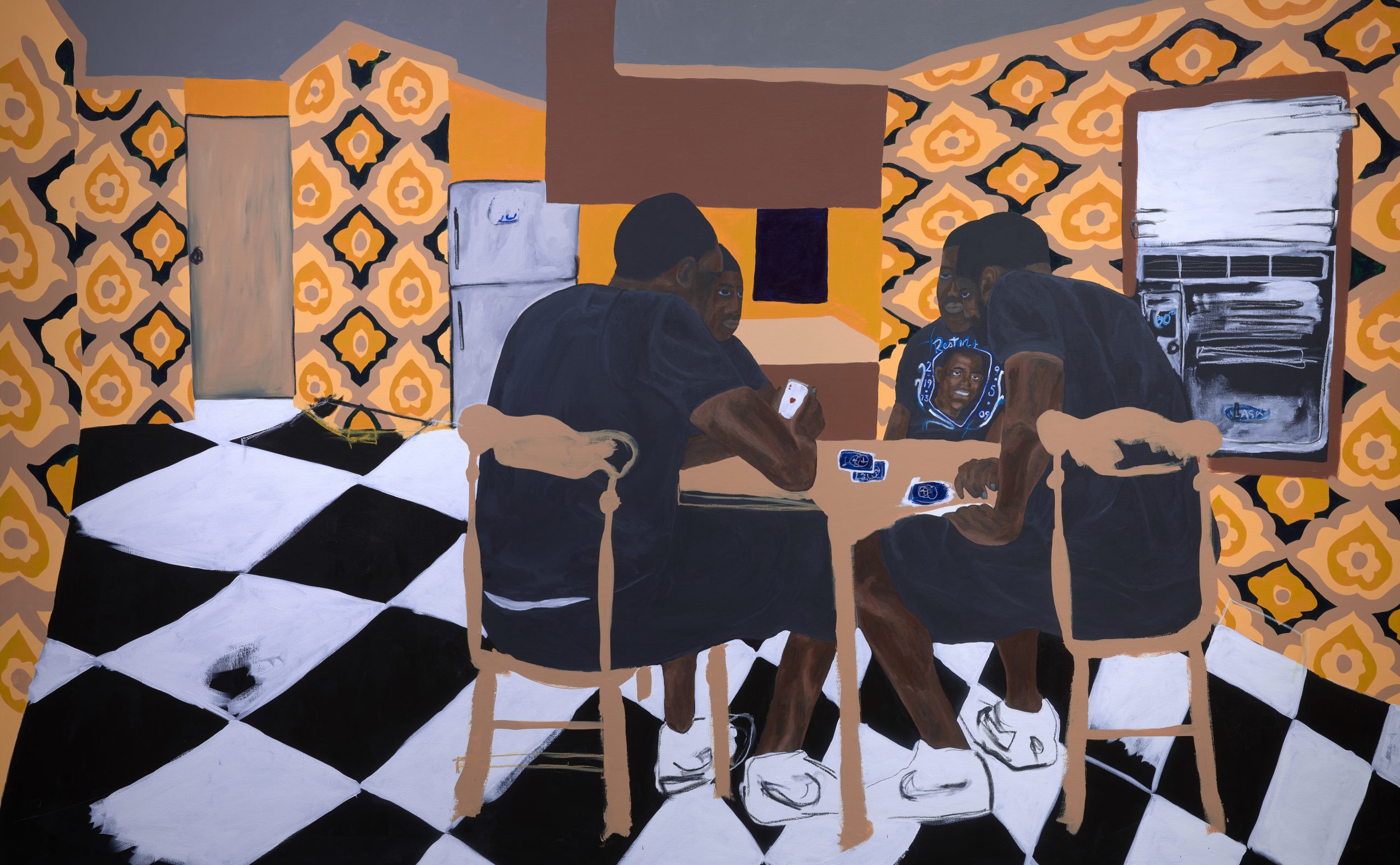 Tired, 2020

Born 1984 in Thibodaux, LA; lives in Dallas TX
Acrylic on canvas
Jammie Holmes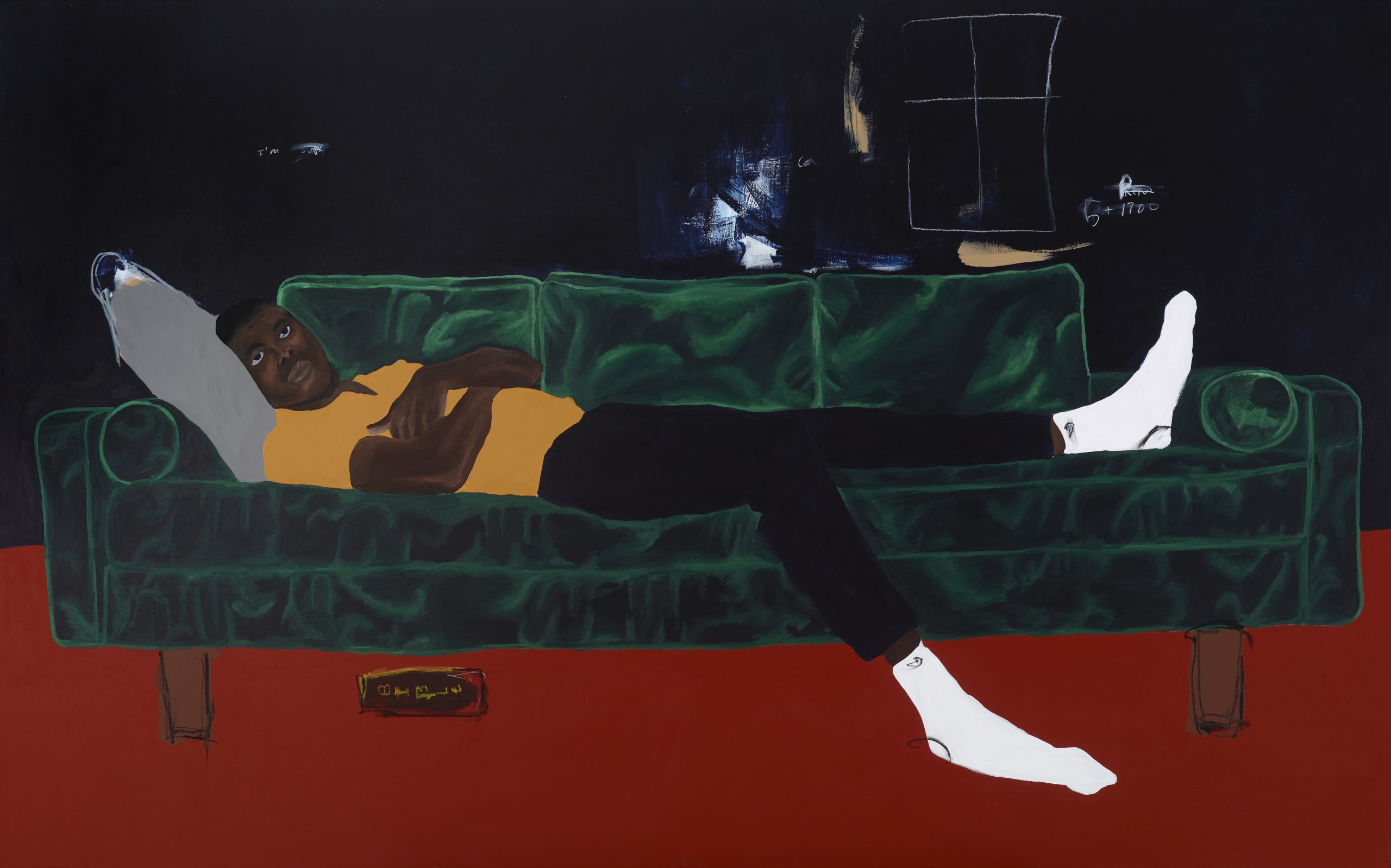 CONVERSATIONS
Watch as Vivian Crockett, the DMA's Nancy and Tim Hanley Assistant Curator of Contemporary Art, interviews Jammie Holmes about his life and art.
Landscape, Color, Struggle
A titan of 19th-century American art, Frederic Edwin Church's The Icebergs suggests the majesty of the Arctic, which was then a site of frequent—and often failed—explorations. The subject is revisited in Blue Turned Temporal, in which Lorna Simpson inserts thin strips from Jet and Ebony magazines into the scene. While Church presents a heroic struggle of humanity versus nature, Simpson's inclusion of Black women's faces and a blue palette recasts the meaning of inhospitable landscapes.

The Icebergs, 1861
Born 1826 in Hartford, CT; died 1900 in New York, NY
Oil on canvas
Frederic Edwin Church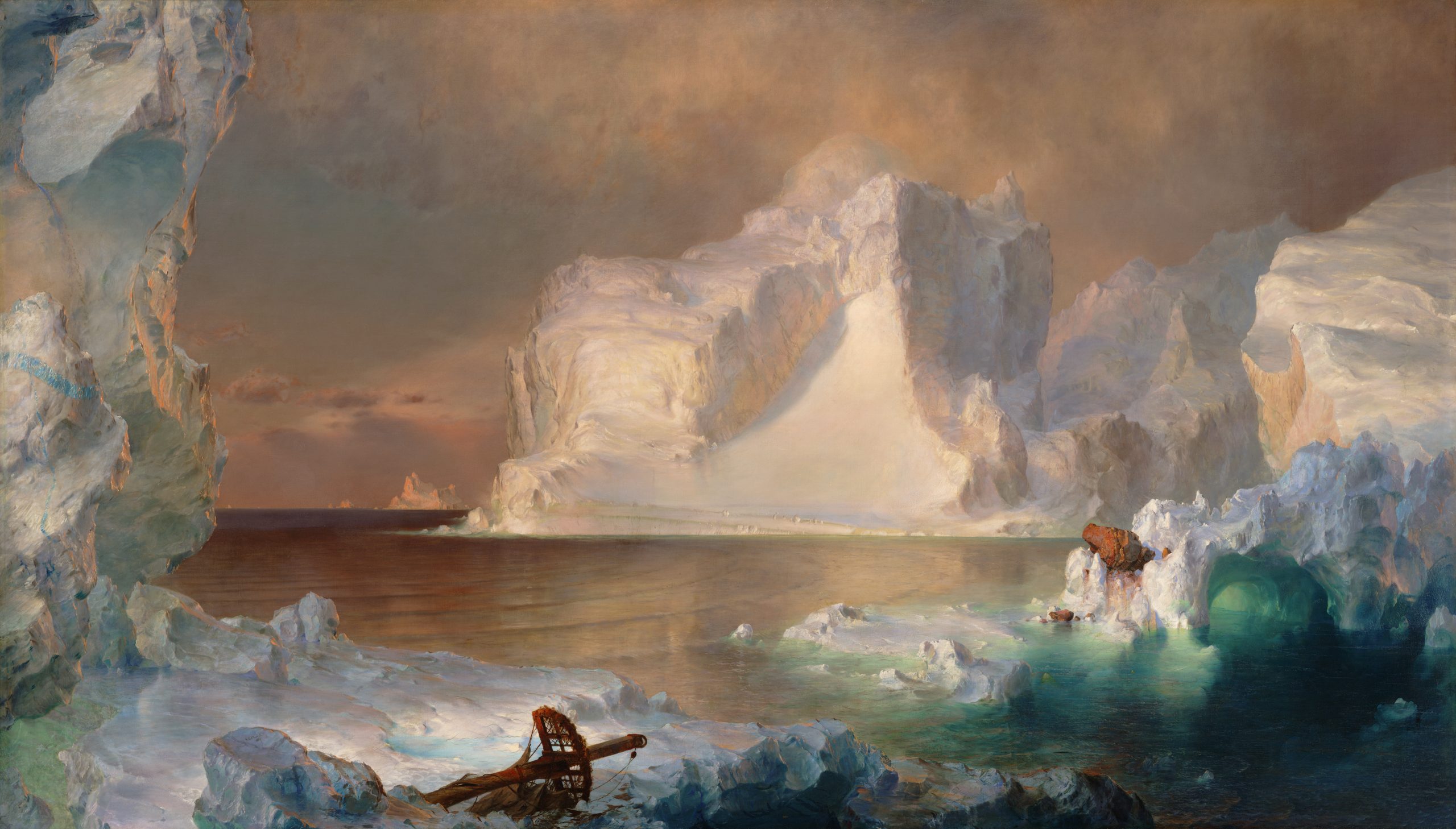 Blue Turned Temporal, 2019
Born 1960 in Brooklyn, NY; lives in Brooklyn, NY
Ink, watercolor, and screenprint on gessoed fiberglass
Lorna Simpson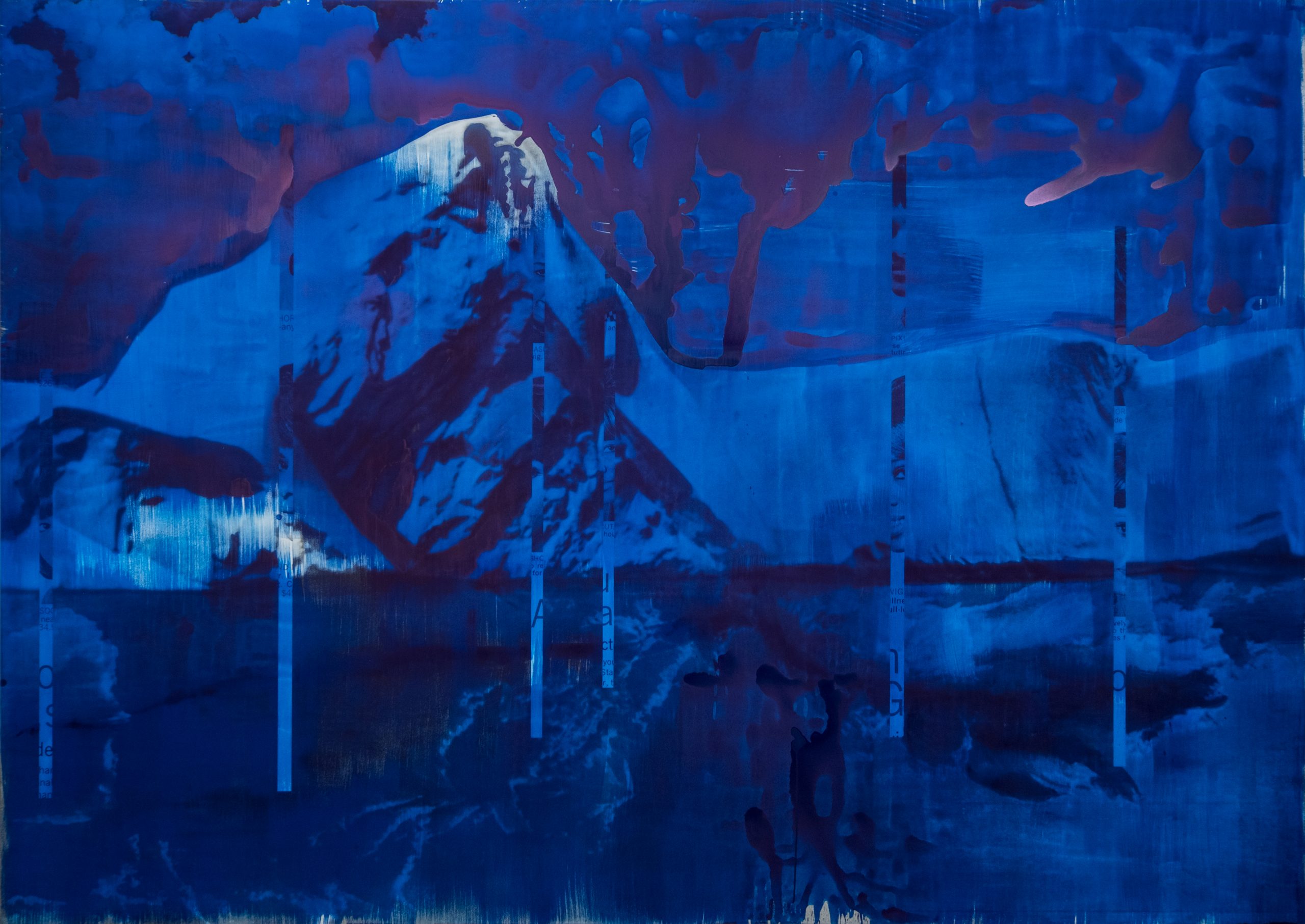 CONVERSATIONS
Watch an excerpt from a conversation with Sue Canterbury, The Pauline Gill Sullivan Associate Curator of American Art, on Civil War Era debut of Church's "The Icebergs."
Language, Belonging, Communication
These works consider the challenges and complexities of written language. In Untitled (America), Glenn Ligon inverts the word "America" in flickering neon, compromising the legibility of the nation. The work implores us to be critical of the American project, not as an exercise in despair, but as a call for change. Similarly, Adam Pendleton and Mel Bochner use words to visualize layered meanings, questioning the notion of identity and the rationality of language.

Untitled (WE ARE NOT), 2019
Born 1984 in Richmond, VA; lives in Germantown and Brooklyn, NY
Silkscreen ink on canvas
Adam Pendleton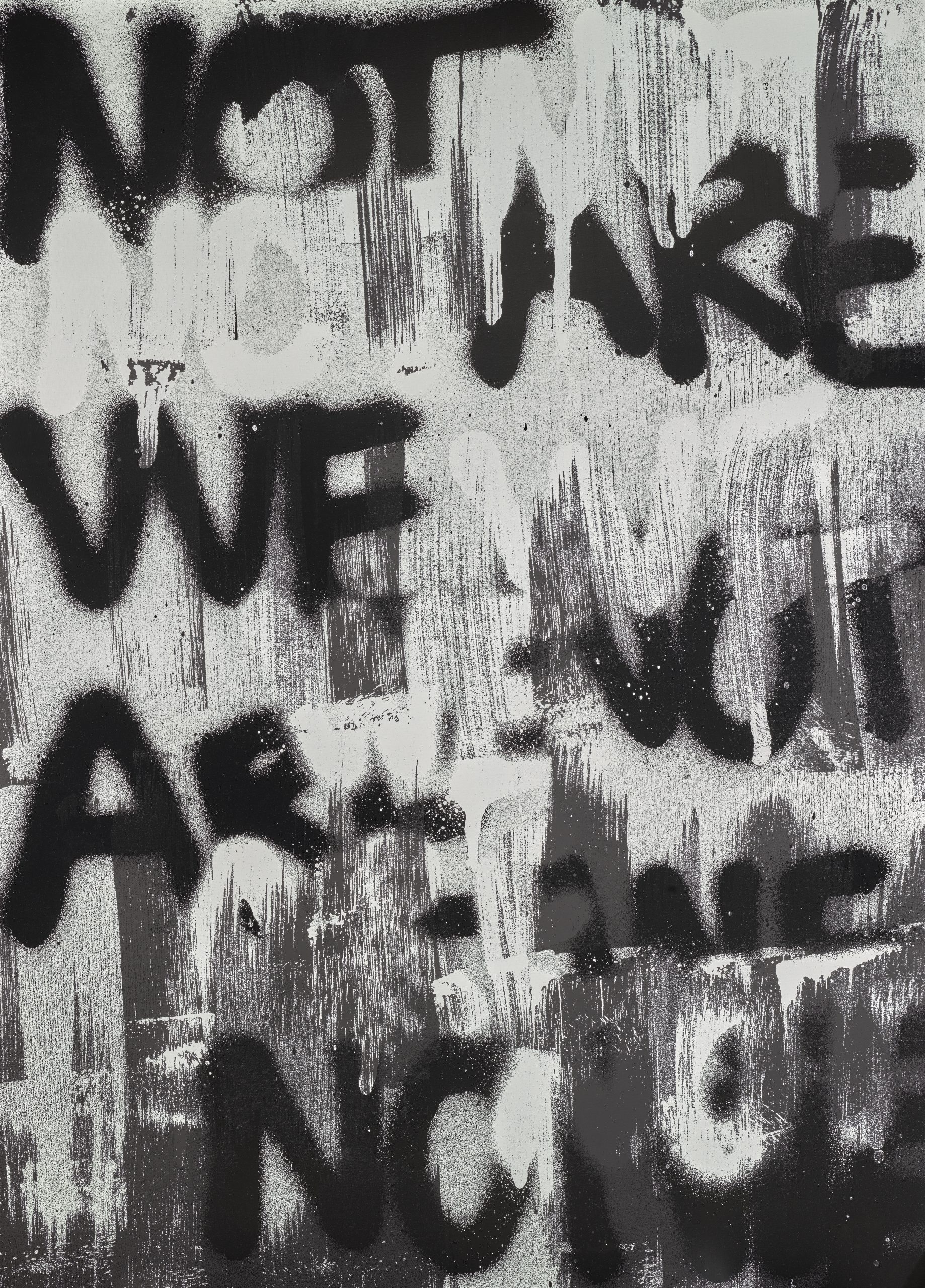 Untitled (America), 2018
Born 1960 in the Bronx, New York; lives in New York, NY
Neon and paint
Glenn Ligon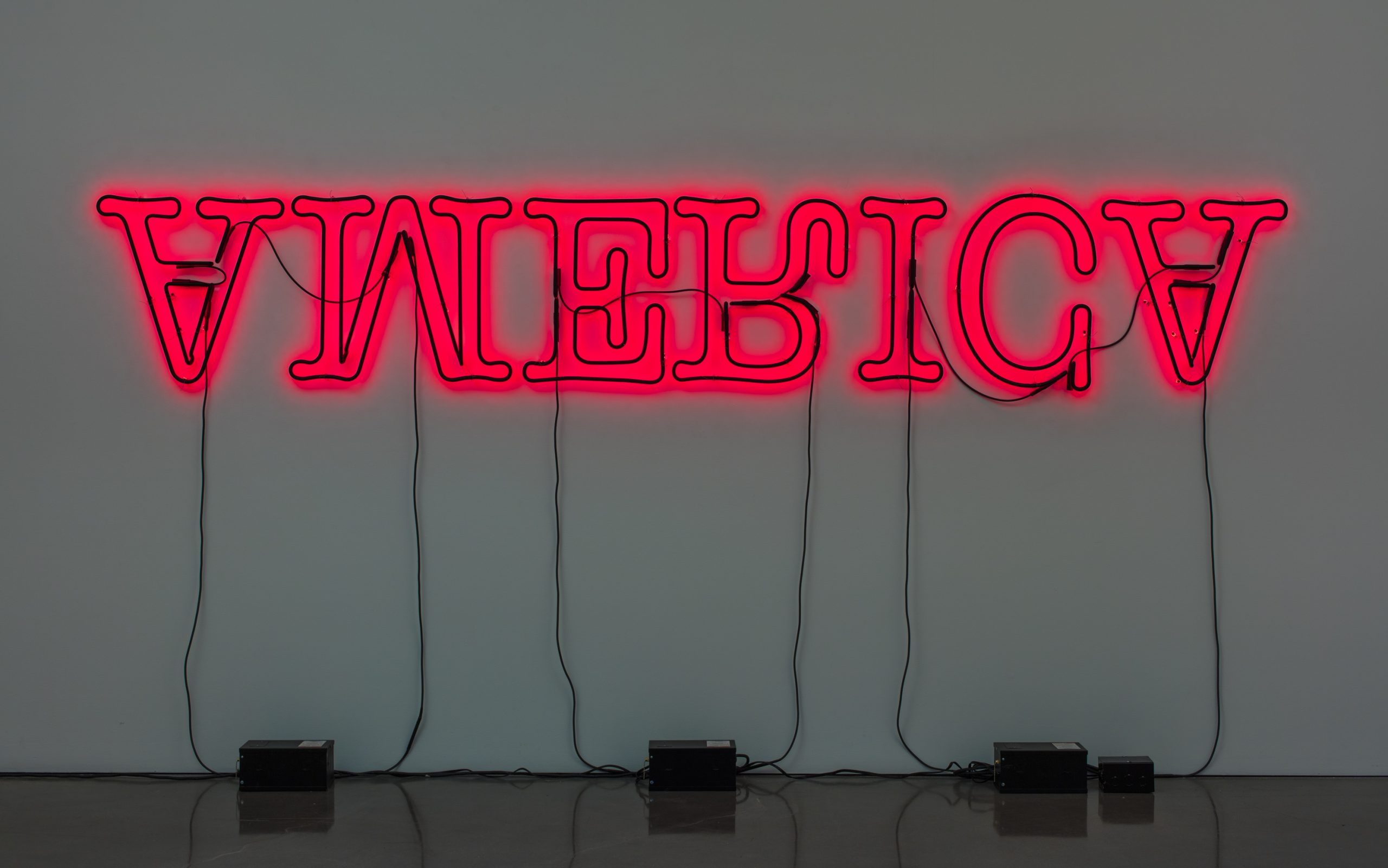 Language Is Not Transparent (English/Spanish), 1969/2019
Born 1940 in Pittsburgh, PA; lives in New York, NY
Oil pastel and vinyl paint on wall
Mel Bochner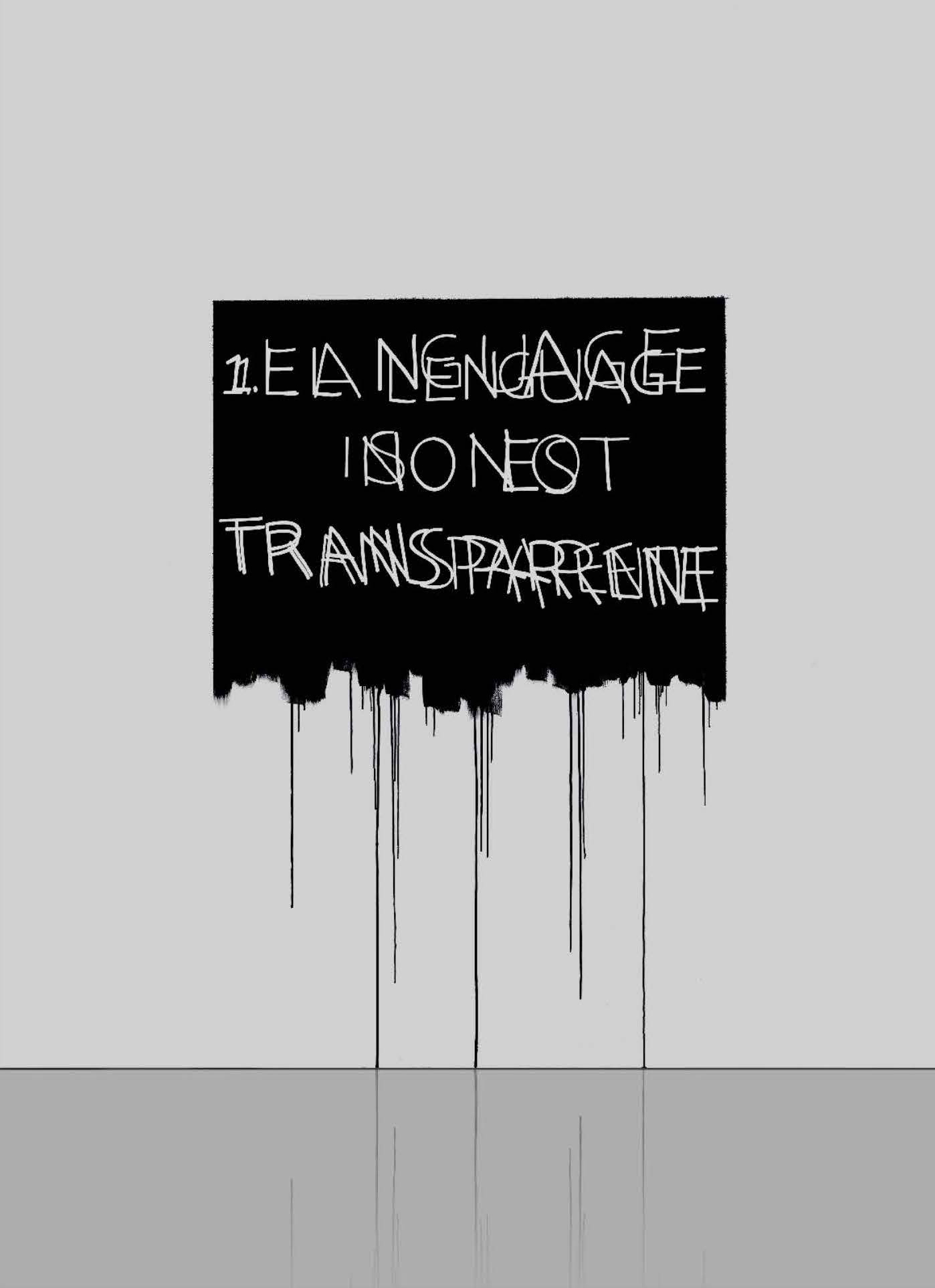 Jeffrey Gibson emblazons an Everlast punching bag—an object associated with both violence and resilience—with a lyric from "I Loves You, Porgy," from the opera Porgy and Bess. A member of the Mississippi Band of Choctaw Indians and half Cherokee, Gibson draws on the cultural hybridity of his own Native and queer identities to reflect on the experiences of love, fear, care, and longing. This sense of intimacy and melancholy likewise emanates from Dorothy Austin's Slow Shuffle, where the dancers' bodies gracefully curve around each other, swaying forever to a silent song.

Slow Shuffle, about 1939

Born 1911 in Dallas, TX; died 2011 in Dallas, TX
Carved plaster
Dorothy Austin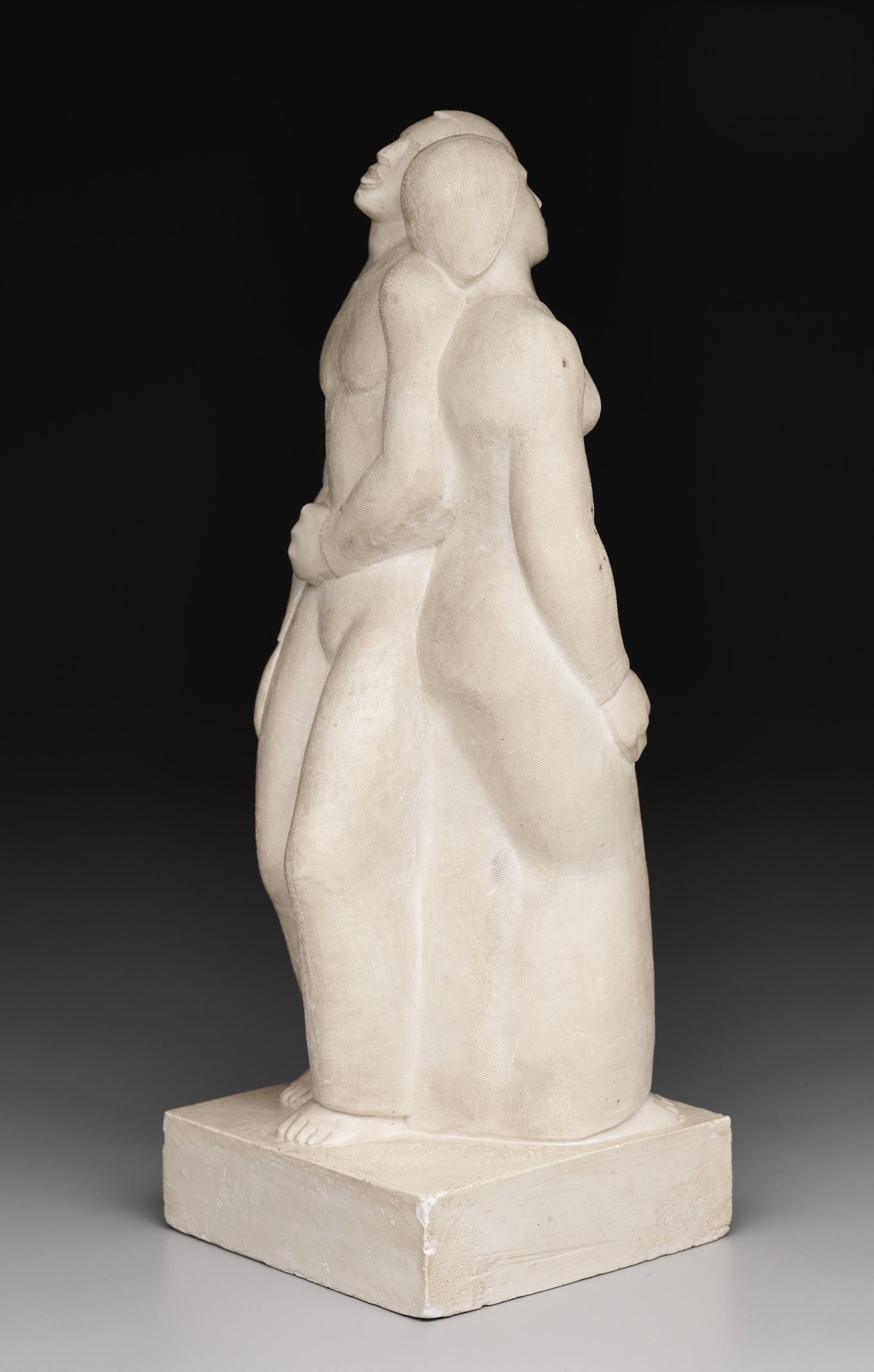 I WANNA STAY HERE WITH YOU FOREVER, 2019

Choctaw/Cherokee / Chahta/cheroqui Born 1972 in Colorado Springs, CO;
lives in Germantown, NY
Repurposed punching bag, repurposed wool army blanket, glass beads, metal studs, tin jingles,
artificial sinew, nylon fringe, and steel
Jeffrey Gibson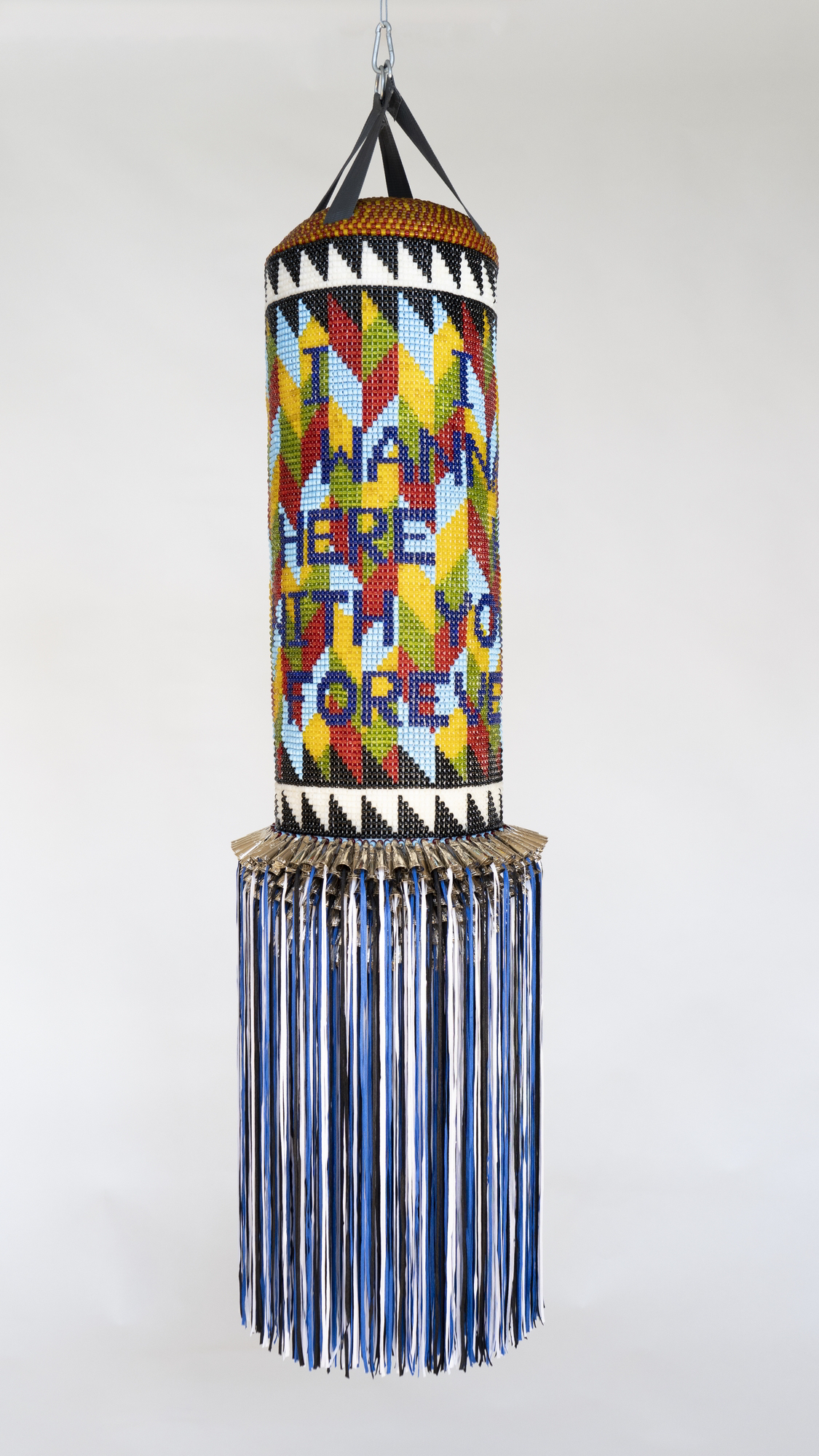 CONVERSATIONS
Hear Nina Simone's 1958 rendition of "I Loves You Porgy," the lyrics of which are emblazoned on Jeffrey Gibson's "I WANNA STAY HERE WITH YOU FOREVER".
Designer Ini Archibong initially created this interactive installation for the exhibition speechless (2019) as a meditative experience of sound made visibly and tactile, as well as audible. For To Be Determined, Archibong has reconceptualized the installation to address how COVID-19 protocols silenced this work, which had previously been activated by human touch. Against the backdrop of social unrest, Archibong reflected on the harsh reality of growing up as a Black male in America. He altered the harmonic tones from serene beauty to imposing drone, and the once inviting glowing sculptures are now rendered untouchable and with lights dimmed.

theoracle, designed and produced 2019
Blown glass, brass, and water
Commissioned for speechless
Ini Archibong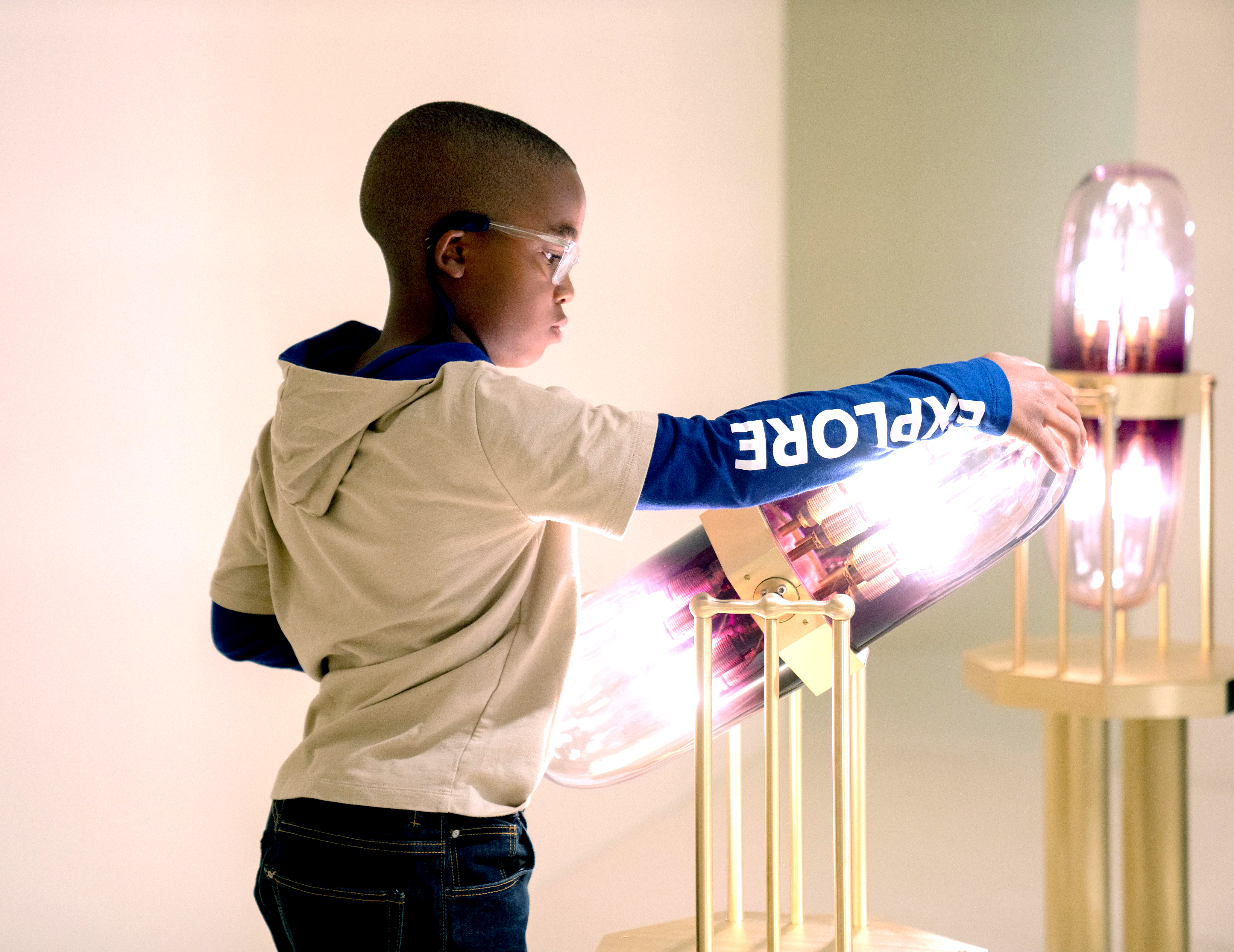 theoracle, 2019/2020
blown glass, brass, water, caution tape, and synthesizer
Ini Archibong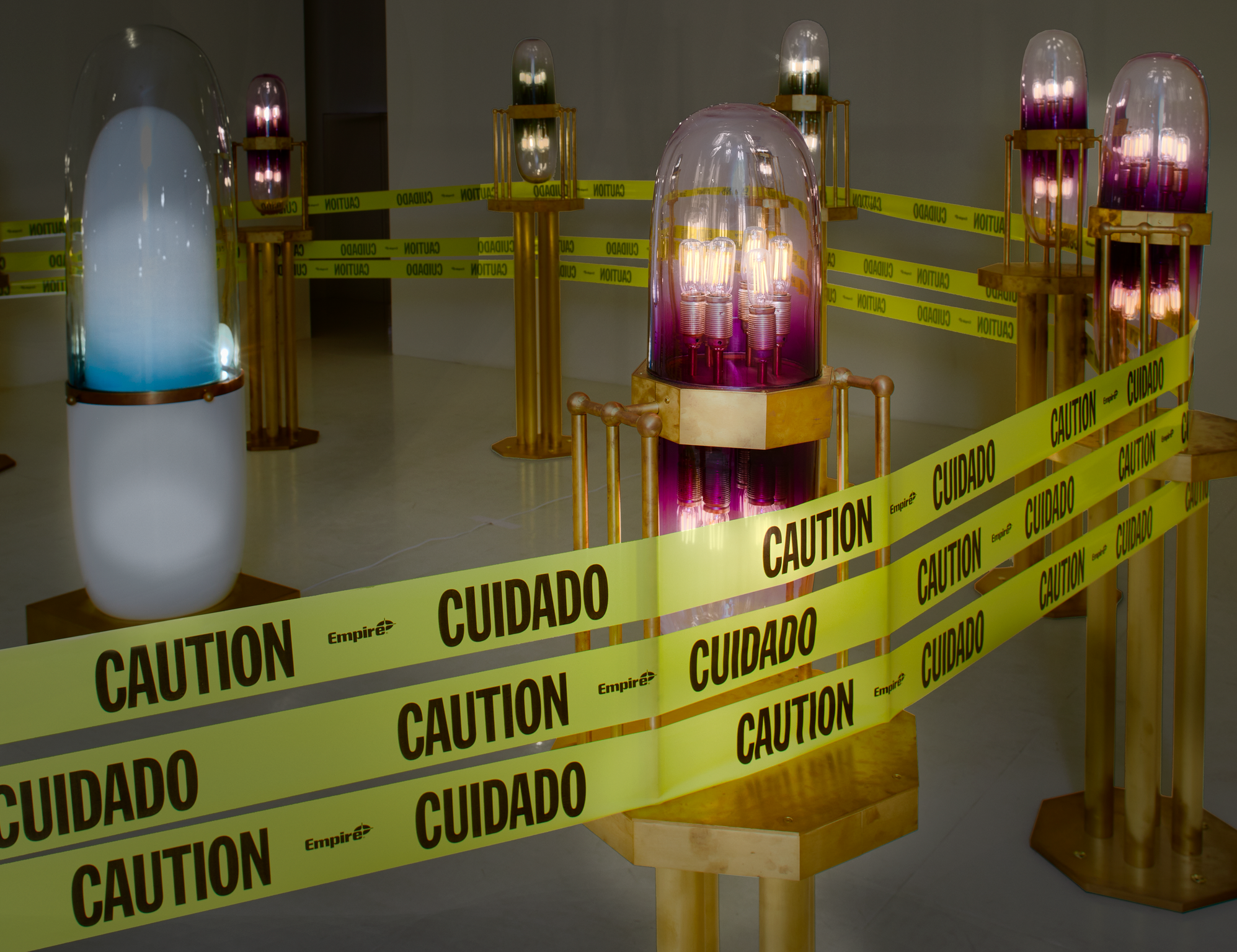 CONVERSATIONS
Listen to designer Ini Archibong discuss how he modified his commissioned installation "theoracle" for a new exhibition.
Tension, Balance, Solidity
These works emphasize natural materials and industrial objects as having inherent artistic meaning. Nobuo Sekine, a leading member of the Japanese group Mono-ha (School of Things) in the 1960s and 1970s, employs a stone and cloth in an examination of mass tension. Oshay Green's Untitled similarly communicates the weight and solidity of its materials while also alluding to ori (head), a Yoruba concept of spiritual identity and inner balance.

Untitled, 2020
Born 1994 in Dallas, TX; lives in Dallas, TX
Cement, black pigment, and resin on canvas
Oshay Green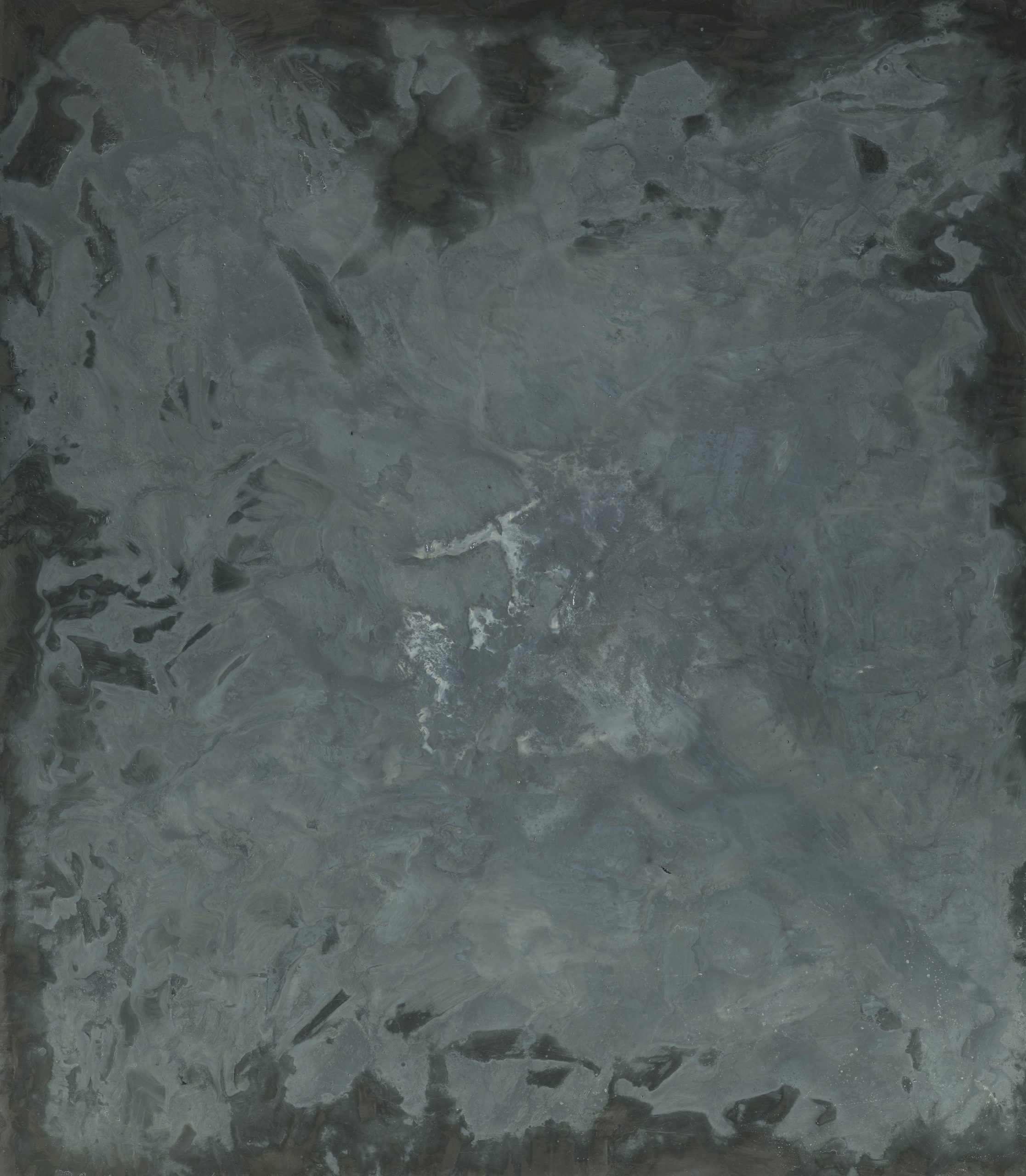 Phase of Nothingness—Cloth and Stone, 1970/1994

Born 1942 in Saitama, Japan; died 2019 in Los Angeles, CA
Cloth, stone, rope, and panel
Nobuo Sekine